Via – The Guardian
On 1 August 2017, workers at Three Square Market, a Wisconsin-based company specializing in vending machines, lined up in the office cafeteria to be implanted with microchips. One after the other, they held out a hand to a local tattoo artist who pushed a rice-grain sized implant into the flesh between the thumb and forefinger. The 41 employees who opted into the procedure received complimentary t-shirts that read "I Got Chipped".
This wholesale implant event, organized by company management, dovetailed with Three Square Market's longer-term vision of a cashless payment system for their vending machines – workplace snacks purchased with a flick of the wrist. And the televised "chipping party" proved to be a savvy marketing tactic, the story picked up by media outlets from Moscow to Sydney.
But not all of the attention was positive. After the event, comments on Three Square Market's Facebook page urged employees to quit. The company's Google reviews page was inundated with one-star ratings. And Christian groups – convinced that the implants fulfilled an end-of-days prophecy where people are branded with "the mark of the beast" – accused the company of being the antichrist.
.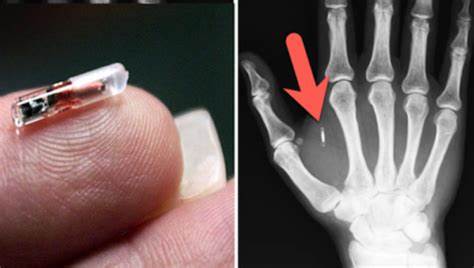 Jowan Österlund, a Swedish tattooist and body piercing specialist whose company Biohax provided Three Square Market with the microchips, watched with interest.
For Österlund, microchip implants were not radical or even novel. He had lived with one for years and had implanted hundreds of other young, tech-savvy Swedes. For this community, the chip signified a seamless integration of biology and technology. They used the implants to gain access to their co-working spaces, pay for gym memberships, and even ride the train. With Biohax, Österlund was hoping to introduce this concept to a global market.
Read More HERE