Israel and the United Arab Emirates reached a historic peace deal on Thursday that will lead to a full normalization of diplomatic relations between the two Middle Eastern nations in an agreement that US President Donald Trump helped broker.
Under the agreement, Israel has agreed to suspend applying sovereignty to areas of the West Bank that it has been discussing annexing, senior White House officials told Reuters.
The peace deal was the product of lengthy discussions between Israel, the UAE and the United States that accelerated recently, White House officials said.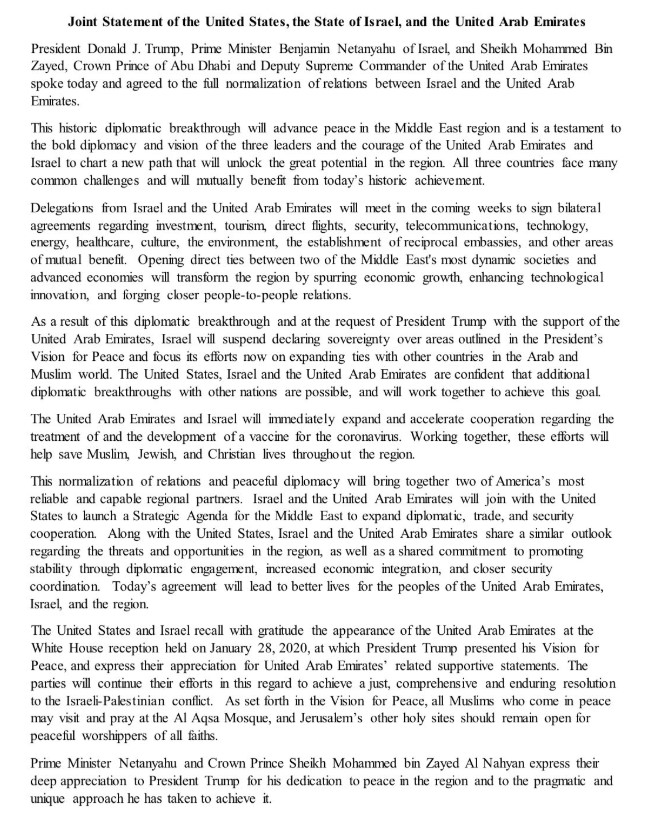 The agreement was sealed in a phone call on Thursday between Trump, Israeli Prime Minister Benjamin Netanyahu and Sheikh Mohammed Bin Zayed, crown prince of Abu Dhabi, who said in a statement that Israel had agreed to stop annexation and that in exchange the UAE and Israel "agreed to cooperation and setting a roadmap towards establishing a bilateral relationship.
"US Ambassador to Israel David Friedman, who was in the White House on Thursday, said that "the normalization of relations between Israel and the UAE will make Israel stronger and safer and will likely lead to additional exciting opportunities and incremental prosperity for Israel, its neighbors and the entire region."
יום היסטורי 🇮🇱 https://t.co/4mD6DzoTvE

— Benjamin Netanyahu (@netanyahu) August 13, 2020