Article By Sluice Report Editor Rick Baker
UK Prime Minister Boris Johnson has tested positive for the Coronavirus. Here is the statement he released on Twitter Friday.
Over the last 24 hours I have developed mild symptoms and tested positive for coronavirus.

I am now self-isolating, but I will continue to lead the government's response via video-conference as we fight this virus.

Together we will beat this. #StayHomeSaveLives pic.twitter.com/9Te6aFP0Ri

— Boris Johnson #StayHomeSaveLives (@BorisJohnson) March 27, 2020
Just hours after Prime Minister Boris Johnson made his announcement the UK Health Secretary Matt Hancock said he too has tested positive for coronavirus.
Following medical advice, I was advised to test for #Coronavirus.

I've tested positive. Thankfully my symptoms are mild and I'm working from home & self-isolating.

Vital we follow the advice to protect our NHS & save lives#StayHomeSaveLives pic.twitter.com/TguWH6Blij

— Matt Hancock (@MattHancock) March 27, 2020
As if that were not enough bad news for the United Kingdom's Covid-19 response team for one day the UK Chief Medical Officer, Chris Whitty, tweeted on Friday that he is also now Self isolating after experiencing symptoms of the Coronavirus.
After experiencing symptoms compatible with COVID-19 last night, in line with the guidance, I will be self-isolating at home for the next seven days.

I will be continuing to advise the Government on the medical response to Coronavirus, supported by my deputies.

— Professor Chris Whitty (@CMO_England) March 27, 2020
All three of these men have played important roles in the UK's response to fighting the Coronavirus outbreak. At the time this article was published, Friday March 27th, the United Kingdom had 14,543 confirmed cases of coronavirus and 759 deaths. (See current case map HERE)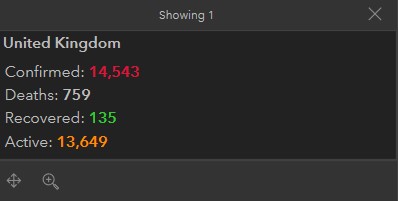 BREAKING: Chief Medical Officer Chris Whitty self-isolates with #Coronavirus symptoms.
This follows Prime Minister @BorisJohnson & Health Secretary @MattHancock both testing positive. Wow. This is an extraordinarily unsettling day in Britain's fight against the disease.

— Piers Morgan (@piersmorgan) March 27, 2020