SEOUL, South Korea (AP) — Police manned checkpoints in quarantined towns, guests were confined to their rooms in a hotel in the Canary Islands, governments issued travel warnings and more flights were suspended Tuesday as officials desperately sought to stop the seemingly inevitable spread of a new virus.
Clusters of the illness continued to balloon outside mainland China, fueling apprehension across the globe that was reflected in sagging financial markets.
The crisis pushed into areas seen as among the worst-equipped to deal with an outbreak as well as some of the world's richest nations, including South Korea and Italy. As it proliferates, the virus is bringing a sense of urgency for local officials determined to contain it but often unsure how.
"It's a matter of speed and time: We must create a clear turning point within this week," said President Moon Jae-in of South Korea, where the caseload grew by 144, with a total of 977 people sickened.
Cases of people who could have infected many others spurred fears.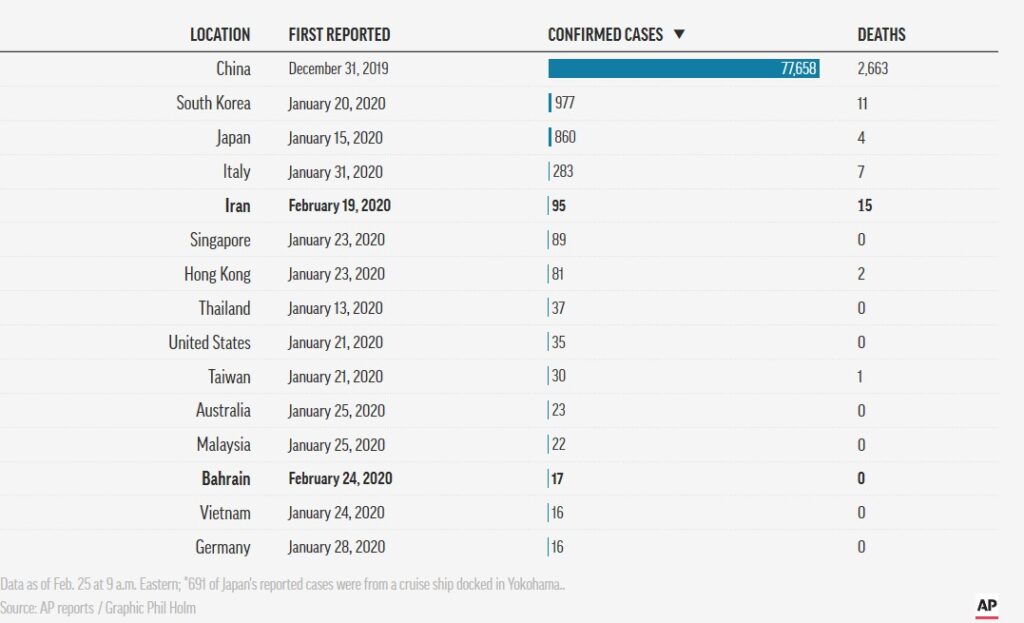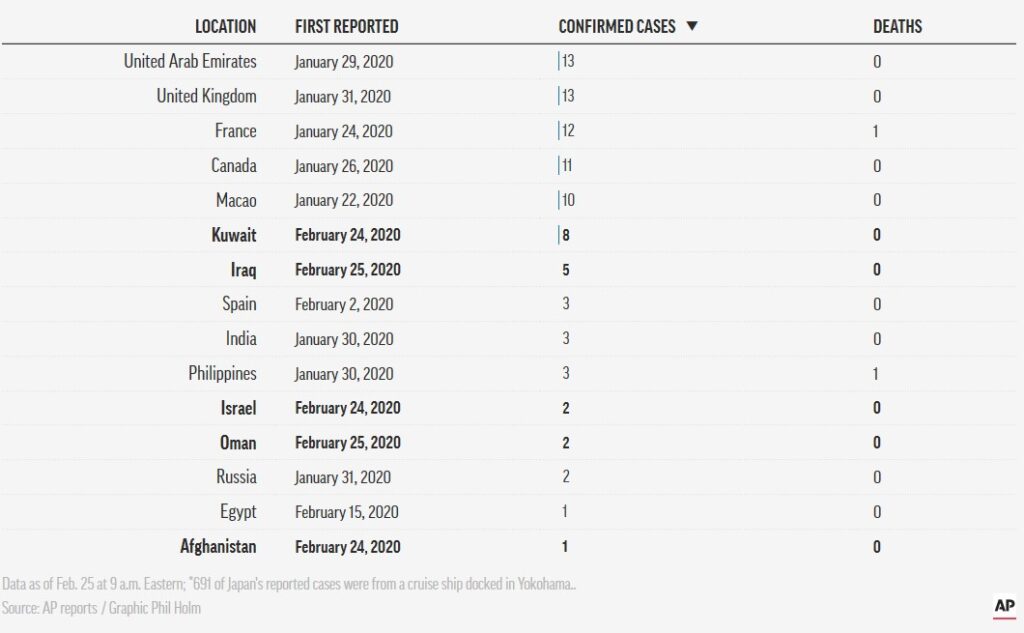 Korean Air said one of its crew members tested positive, but the airline didn't disclose the flights the employee had worked on. On a U.S. military base in Daegu, the center of infections in South Korea, officials said the spouse of a late servicemember had also been infected. And in the tiny Persian Gulf nation of Bahrain, one of those infected was a school bus driver who had transported students as recently as Sunday.
Also testing positive was the head of Iran's virus task force, who just a day earlier gave a news conference in Tehran in which he tried to minimize the danger posed by the outbreak.
In Italy's north, where more than 200 people were sickened, a dozen towns were sealed off and police wearing face masks patrolled.
Two neighbors of Italy — Croatia and Austria — reported their first cases of the virus. And an Italian doctor staying at a hotel in the Canary Islands tested positive for the virus, prompting the quarantine of hundreds of guests.